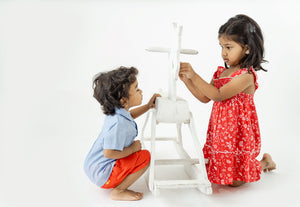 Everyday Essentials
---
Introducing our Everyday Essentials Collection, a carefully curated selection of timeless clothing items designed to elevate your kids daily wardrobe. These versatile pieces are thoughtfully crafted to provide both comfort and style, making them the perfect foundation for any outfit. 
Made from high quality organic cotton and cotton blends ensure all-day comfort, whether your kids are simply relaxing at home, having a playdate, or going about their day to day adventure. Each item is designed with versatility in mind, allowing you to effortlessly mix and match to create your signature look.
From classic shirts, trousers and dresses to signature jumpsuits and Co-Ord sets, our Everyday Essentials Collection has you covered from head to toe. These wardrobe staples are not only comfortable, but easy to care for, so you can rely on them for all your kids daily activities. 
Experience the ultimate blend of comfort and fashion for your kids everyday life!